The Master Switch
OpenLiteSpeed's default Gzip and Brotli Compression settings should be appropriate for most situations. The server level Enable Compression setting is a master switch, and is enabled by default. If you set it to No, it will disable compression server-wide, overriding all virtual-host-level compression settings.
Server-Level Compression Configuration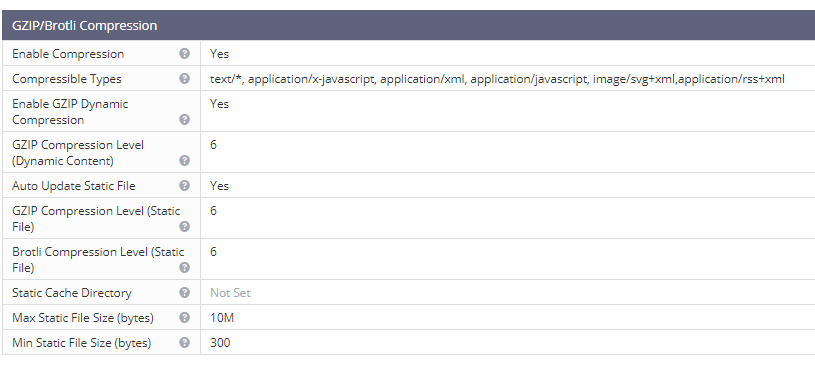 Compressible Types is a comma-separated list of MIME types that may be compressed. You may use wildcards for MIME types, for example, */*, or text/*. You can put ! in front of a MIME type to exclude it. The order of the list is important if you use !. A list like text/*, !text/css, !text/js will compress all text files except for CSS and JS.  MIME type must be matched before compression is considered. It controls both static and dynamic content and mod_gzip.
Dynamic GZIP compression control will be effective only if GZIP Compression is enabled.
GZIP Compression level ranges from 1 (Minimum) to 9 (Maximum).
If you set the Brotli Compression Level (Static File) to 0, then Brotli is disabled at the server level.
Use Min Static File Size to specify the smallest size static file for which the server will create a corresponding compressed file. Any files that fall below the threshold will not be compressed by the server during initial access. However, they will still be compressed dynamically via mod_gzip. Static files are compressed only once, so even the smallest of files would be better off generated once at initial access than dynamically generated at runtime via mod_gzip.
Virtual Host level Compression Configuration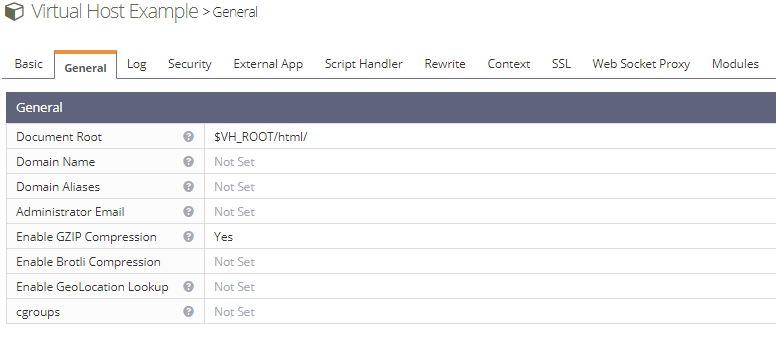 You can control gzip compression and brotli compression separately at the virtual host level.