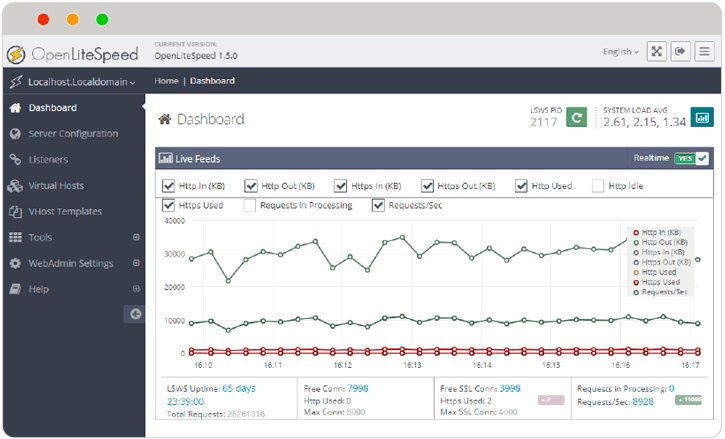 OpenLiteSpeed is the Open Source edition of LiteSpeed Web Server Enterprise.
Both servers are actively developed and maintained by the same team, and are held to the same high-quality coding standard.
OpenLiteSpeed contains all of the essential features found in LiteSpeed Enterprise, and represents our commitment to support the Open Source community.
OpenLiteSpeed combines speed, security, scalability, optimization and simplicity in one friendly open-source package.
Download OpenLiteSpeed today, and see what it can do for your sites!
Event-Driven Architecture
Event driven processes, less overhead, and enormous scalability. Keep your existing hardware.
Understands Apache Rewrite Rules
OpenLiteSpeed is mod_rewrite compatible, with no new syntax to learn. Continue to use your existing rewrite rules.
Friendly Admin Interfaces
OLS comes with a built-in WebAdmin GUI. Control panel support is available with CyberPanel.
Built for Speed and Security
Features Anti-DDoS connection and bandwidth throttling, ModSecurity v3 integration, and more.
Built-in full-page cache module is highly-customizable and efficient for an exceptional user experience.
PageSpeed Optimization
Automatically implement Google's PageSpeed optimization system with the mod_pagespeed module.
PHP LiteSpeed SAPI
Native SAPI for PHP allows external applications written in PHP to run up to 50% faster.
One-Click Installation
Install OpenLiteSpeed, MariaDB and WordPress on various operating systems with just one click.
WordPress Acceleration
Experience a measurable performance boost with OpenLiteSpeed and LSCache for WordPress.
The Power of LiteSpeed, the Freedom of Open Source
OpenLiteSpeed is free to download, use, distribute, and modify under GPLv3.
Want to use OpenLiteSpeed in a proprietary product? Contact us about obtaining an OEM license.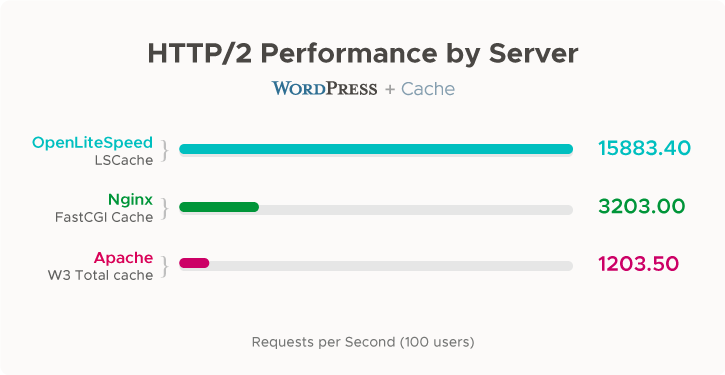 See the maximized performance you can get from your current hardware, just by switching to OpenLiteSpeed!
We compare OpenLiteSpeed against other web servers in a series of benchmarks designed to measure server response time, communication time with PHP, WordPress acceleration, and more.
Whether you use our one-click options, or take advantage of CyberPanel support, installation of OpenLiteSpeed is easy.
Launch an Existing Cloud Image
We've prebuilt a collection of images for popular cloud platforms, allowing you to easily launch an instance in three minutes or less!