Let's Encrypt
Why choose Let's Encrypt?
Let's Encrypt is a free, automated, and open certificate authority brought to you by the non-profit Internet Security Research Group (ISRG)
Before Installing SSL
Please install OpenLiteSpeed. You might want to follow one of these tutorials: 1Click or Repo install
Environment
We are going to install Let's Encrypt with OLS on an AWS Linux server. Both OLS and Amazon Linux are not listed on the CertBot list but we are still able to install them using the following method.
Install Certbot
wget https://dl.eff.org/certbot-auto
chmod a+x certbot-auto
./certbot-auto certonly --no-bootstrap
Save debug log to /var/log/letsencrypt/letsencrypt.log
Answer the Questions
Answer the following questions to complete the installation process:
How would you like to authenticate with the ACME CA?
Spin up a temporary webserver (standalone)
Place files in webroot directory (webroot)
Select the appropriate number [1-2] then [enter] (press 'c' to cancel):
2
Enter email address (used for urgent renewal and security notices) (Enter 'c' to cancel):
YOUR_EMAIL
Please read the Terms of Service at https://letsencrypt.org/documents/LE-SA-v1.2-November-15-2017.pdf. You must agree in order to register with the ACME server at https://acme-v01.api.letsencrypt.org/directory
(A)gree/(C)ancel:
A
Would you be willing to share your email address with the Electronic Frontier Foundation, a founding partner of the Let's Encrypt project and the non-profit organization that develops Certbot?
(Y)es/(N)o:
N
Please enter in your domain name(s) (comma and/or space separated) (Enter 'c' to cancel):
YOUR_DOMAIN
Input the webroot for YOUR_DOMAIN: (Enter 'c' to cancel):
/usr/local/lsws/Example/html
Waiting for verification… Cleaning up challenges
IMPORTANT NOTES: Congratulations! Your certificate and chain have been saved at:
/etc/letsencrypt/live/YOUR_DOMAIN/fullchain.pem
Your key file has been saved at:
/etc/letsencrypt/live/YOUR_DOMAIN/privkey.pem
Your cert will expire on DATE. To obtain a new or tweaked version of this certificate in the future, simply run "certbot-auto" again.
To non-interactively renew *all* of your certificates, run "certbot-auto renew"
Configure OpenLiteSpeed for SSL
Navigate to OpenLiteSpeed > Web Console > Listeners > SSL > SSL Private Key & Certificate
Set the following values:
Private Key File: /etc/letsencrypt/live/YOUR_DOMAIN/privkey.pem
Certificate File: /etc/letsencrypt/live/YOUR_DOMAIN/cert.pem
Click SAVE then do a Graceful restart
Verify SSL
View Certificate
Open your site with https protocol. Click Secure to view site information.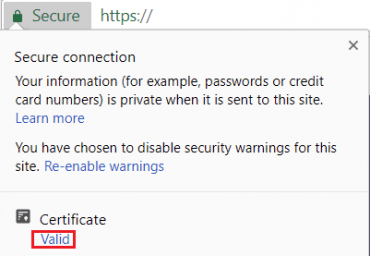 View Issuer
Click Valid, then you will see certificate information which should include Issued by Let's Encrypt.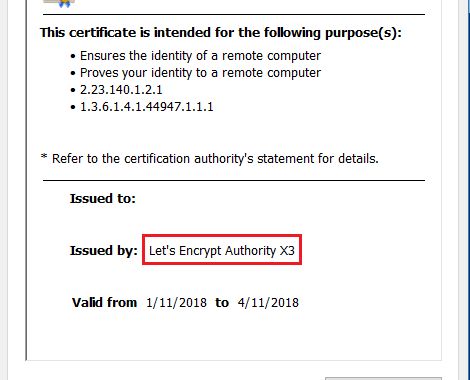 View Cert Valid Date
openssl x509 -noout -dates -in /etc/letsencrypt/live/YOUR_DOMAIN/cert.pem
You should see something like this:
notBefore=Jan 11 20:05:22 2018 GMT
notAfter=Apr 11 20:05:22 2018 GMT